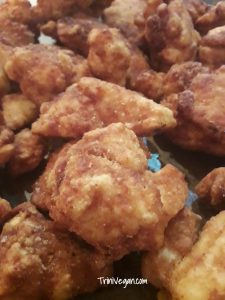 Today, I have for you a super yummy recipe that takes a little patience to make but it is worth it at the end so don't rush it! 🙂
I am pretty sure if you are reading this it is because you are craving some comfort food like Vegan Pasta Alfredo,  my absolute scrumptious chocolate cake or what I am about to introduce you now: A super crunchy Vegan version of KFC!
Of course, no animals were hurt in the process. Like anything else, it is not something you should be eating often but instead once in a blue moon due to the fact that it is deep fried.
Having said that, let's dive into today's recipe.
NOTE: This is a recipe you need to start the DAY BEFORE  the actual date you wish to eat it.
INGREDIENTS
1 large block of medium-firm tofu (very important, if it is firm or soft will not work)
Around 1 ½ to 2 cups of Vegan "chicken" broth or any Vegan "chicken" (if you cannot find it, you can choose a veggie broth but might not have the exact same taste).
2 cups of unsweetened plant-based milk,
2 tablespoons of vinegar
Oregano or Italian seasoning
Garlic salt
Black pepper
Paprika
Around 2 cups of all-purpose flour
Oil for frying
 METHOD
Take the tofu package and place it in the freezer (unopened). Let it freeze completely until solid. After this is done, remove it from the freezer and allow it to defrost fully. Repeat this process twice. This step is essential for the success of your recipe (so do not skip it) because freezing it twice will change the texture of the tofu to a meaty-like texture and allow any flavours to soak beautifully.
After the tofu is defrosted completely, open the package and drain out all the liquid. You need to ensure all the water is out. Pat it dry with a clean cloth. If you have a tofu presser, use it to squeeze as much water as possible, you want the tofu to be dry. Be gentle with it though. If you don't have a tofu presser, use two cutting boards and place the tofu in the middle and press to remove all the liquid. Once you finish this process, use a kitchen cloth to drain it again.
Break up the tofu with your fingers into medium sized pieces. You will see that the texture of your tofu changed completely and it no longer crumbles but instead you can easily break it.
You should have around 7 or 8 pieces. In a pirex dish add the tofu pieces with enough space between each piece. Pour the chicken broth (room temperature) on top of the tofu and let it soak.
In a bowl add your plant based milk with the vinegar, stir and wait for approximately 6 or 7 minutes until it curdles (your buttermilk). Set aside.
Take a large bowl and add the flour along with all the spices listed in this recipe.   I eyeball when cooking (most of the time) so just add a little bit of everything. Mix everything together.
Take one piece of the tofu without much liquid, add it to the milk mixture and then to the seasoned flour making sure every side is coated well. Repeat these steps with the rest of your tofu pieces.
Now, you are ready for the second round. This time you can add some crumble corn flakes to the flour to give it more crunch although this is an optional step. Take your pieces one by one and repeat the process stated in #7.
Deep fry the tofu in hot oil until a nice crunchy and golden brown crust has been created. It should take around 5-6 minutes per side but it all depends on how hot your oil is. Make sure to turn the pieces around so it cooks evenly on all sides.
Serve it with French fries, onion rings or simply with some creamy Vegan mashed potatoes.