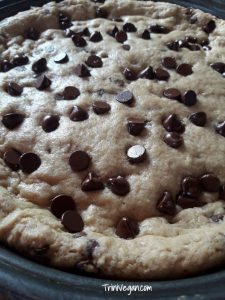 I made this chocolate chip cookie pie last April and it was a hit at home! Everyone wanted seconds.
Hope you enjoy this recipe!
INGREDIENTS
1/4 cup of coconut oil
1/4 Vegan spread or margarine
1 cup of brown sugar
1/4 cup of plant based milk (soy, almond, etc)
1 tablespoon of vanilla extract
2 cups of all-purpose flour
1 tsp of baking soda
1 tsp of baking powder
1/4 tsp salt
Vegan chocolate chips
Your favourite Vegan ice-cream
PREPARATION
Preheat the oven at 176 degrees C (350 degrees F).
In a large bowl, combine the margarine, coconut oil and sugar until it is like a cream.  Add the milk and vanilla extract and mix until all is well combined then set aside.
In a separate bowl, add the flour, baking soda, baking powder and salt. Whisk everything carefully. Add the flour into the margarine mixture in batches, little by little mixing gently until you have incorporated all the flour. Fold in the chocolate chips (the more, the merrier). Bake for 20-25 minutes at 350F. Take cake from oven, let it cool and then gently, remove it from the pan.
Add  some Vegan ice-cream on top while the pie still warm! Enjoy it with a glass of plant-based milk.