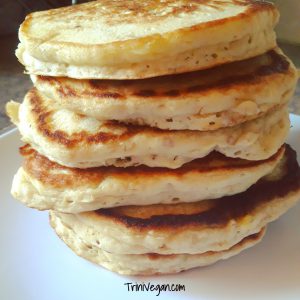 Hi my fellow Vegan enthusiast! How are you? How are you dealing with the COVID-19 lockdown? Hope you are doing well, these are certainly unusual times. This is why I love cooking because it is such a relaxing activity and it can help you deal with stress.
Today, I have the ULTIMATE Vegan banana pancake recipe. I absolutely adore it because the pancakes turn out so thick, soft, fluffy and perfect for Sunday morning breakfast or anytime you would like to make them. They are also oil-free and sugar-free and yet you do not compromise on taste!
Okay here is the recipe, please let me know if you tried them and what did you think about it.
INGREDIENTS
2 over ripe mashed bananas (brown spots on the outside, this is key for the sweetness of your pancakes. Do not use bananas that are not over ripe).
3 1/2 cups of all-purpose flour
3 tablespoons of baking powder
2 teaspoons of vanilla extract or essence
2 1/3 cup of any plant based milk (I used soy milk. The measuring cup I used for this recipe is not the one you use for liquids but the same measuring cup I used for the flour.

Note: If for some reason your batter is extremely thick, add just a little more of milk, one tablespoon at the time. Remember, the batter has to be thick so when you pour the batter into the pan,the mixture shouldn't spread too much.
PREPARATION
In a large bowl, add the flour, baking powder and mix everything using a whisk. Add the vanilla extract, the mashed bananas and the milk. Mix everything until very well combined. The mixture should be thickish but not too thick that you have a big lump of flour that cannot be poured into a pan. On the other hand, it shouldn't be watery at all. It should be nice and thick and you should be able to pour it into your pan with ease.
Key tip: Do not over mix the batter! Using a non-stick pan add a little Vegan spread or margarine to ensure your pancakes do not stick. Let the pan heat for a little bit on moderate-low heat. Use a measuring cup to pour out the batter (depending on how big you want your pancakes to be). You can cook 2 at the time, make sure the heat isn't too high because they cook quite fast so please keep an eye. When you start seeing little bubbles after a couple of minutes, turn the pancakes carefully and let it cook on the other side for a couple of more minutes.
And there you have it… super delicious, fluffy, thick and gorgeous Vegan banana pancakes. Make them for your family and show them how incredibly delicious pancakes can be without eggs or dairy.
Bon appetit!