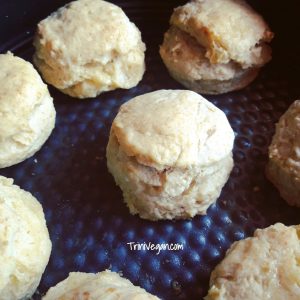 There is nothing more comforting that super fluffy, southern buttermilk biscuits! ('KFC' sytle). You can eat it with your favourite Vegan 'KFC' "chicken" and some fries on the side. Of course, these are treats you can make once in a blue moon, so don't start making them every day. I'm watching you!
This recipe will yield approximately 6 to 8 small-medium size biscuits. Don't feel tempted to double the recipe, try it out first and if you like it (which I am sure, you will) you can make more.
So enough with the introduction, let's start!
INGREDIENTS
2 cups of all purpose flour.
¼ teaspoon of baking soda
1 tablespoon of baking powder
1 teaspoon of salt
6 tablespoons of VERY COLD margarine or Vegan butter (cut it in small pieces)
1 cup of Vegan buttermilk (very easy to make, just measure one cup of VERY COLD unsweetened plant-based milk, add one tablespoon of vinegar, stir and keep it in the fridge until you are ready to use it).
Maple syrup or pancake syrup (optional)
METHOD
The KEY to the success of this recipe is in the margarine/Vegan butter and Vegan milk. Both need to be VERY COLD, particularly the margarine. So you need to work a little fast, remember we live in the Caribbean so once anything cold is out of the fridge things tend to warm up very quickly. Therefore, if you feel your ingredients are not cold enough, feel free to put them in the freezer for a few minutes. Do NOT take the margarine or milk outside until you are ready.
Preheat your oven to 230 degrees Celsius or 446 Fahrenheit (yep, it needs to be hot).
In a large bowl; combine the flour, baking soda, baking powder and salt. Whisk until well combined. Add the margarine and using a pastry cutter or a fork, cut the margarine into the flour until it resembles crumbs. Add the milk mixture and very carefully mix until it forms a very soft dough (do not overmix). Pour the dough into a light-floured board and knead the dough by folding it in layers (this is an important step because it is what makes biscuits flaky). Fold it around 7 times. You can add a little more flour if the dough is too stick.
Pat the dough out into the shape of a rectangle, if you want high-rise biscuits then your rectangle needs to be thick-ish (around 1 inch). Using a floured biscuit cutter or a cup (as I do) cut out circles like if you are making cookies. DO NOT TWIST THE CUTTER.
Place biscuits in a greased baking sheet and bake for around 13 minutes (mine took 15 minutes, it all depends on your oven). As soon as they are done, you can brush them again with a little margarine if you want (optional).
If you want a nice twist to it, before you bake them brush them gently with maple syrup or pancake syrup if you have, just a little bit. Brushing them with maple syrup will cause your biscuits to brown nicely and will add a very gentle, sweet little touch. So yummy!
The batch I made today is already gone so can't wait to make more.
Hope you like them! 🙂