Once you start making your own vegetable stock, there is no way back! The greatest thing is you don't have to spend any extra money and you can make it all year long and even freeze it. I love to use my veggie stock on soups, stews, sauces and gravy (which reminds me, I have a great Vegan gravy recipe to share with you soon just in time for Christmas).
Let's start, shall we? 😉
First, let me tell you we will be using all the veggie scraps you usually throw away when you are preparing your meals. Yup, we will not be wasting anything so every time you are cutting veggies (after washing them thoroughly) you need to have a bag where you can add all the tops, bottoms, skins, stems, etc.  Careful though, you don't want to add veggies such as Brussels sprouts or cauliflower or even broccoli because it might ruin your stock (will give it a bitter taste). Try avoiding potatoes as well since it will absorb all the flavours. Make sure your bag is full of veggie scraps before you decide to prepare it otherwise, you will not get much stock. Also, keep the bag in the fridge.
Give all the scraps a second wash and then place it in a pot and cover it with water on medium heat. Bring it to a boil and let it simmer for at least 20 minutes.  Once it is completely cool, strain it and there you have it! Homemade vegetable stock.
Remember, you can always add things like salt, etc when you are actually preparing the meal so no need to add it now.  You can keep it in the fridge for a few days (around 3-4) or make a big batch and freeze it for a couple of months. Here is a picture of the final product AFTER I used most of it to make a gravy.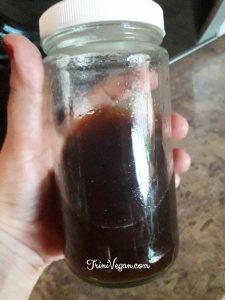 Hope you enjoyed this super easy recipe and you are keeping safe!