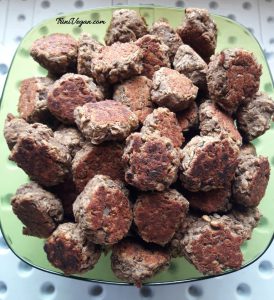 Hey guys! When I cook (unless it is baking a cake,  bread or dessert) I eyeball all my ingredients like most Trinis do (lol). So I will share with you all the ingredients that I use for these wonderful Vegan "meatballs". Don't be afraid, you cannot go wrong! You don't need exact measurements. Keep tasting as you add your favourite seasonings and feel free to add more or replace them.
INGREDIENTS
2 large pack of dry lentils (to make 90 medium size 'meatballs')
1 large onion (chopped finely)
Salt (to taste)
Black pepper (to taste)
All-purpose seasoning (to taste)
Onion powder (to taste)
Garlic powder (to taste)
A couple of drops of liquid smoke (optional)
A bit of ketchup or BBQ sauce (to taste)
A bit of mustard (to taste)
Flour (to bind everything together)
PREPARATION
In a large pot, cook the 2 packs of lentils (I don't pressure cook them) until the lentils are very soft. Drain and let them cool. Put half of your batch in a food processor with a bit of water (not too much!) and pulse. You don't want the entire batch to be mashed; you want to have a mix of both mashed and whole lentils.
Pour the mixture in a large bowl and add the rest of the whole lentils and mix thoroughly. You should have a somewhat creamy consistency of mashed lentils and whole ones. Add all your seasonings and combine. Make sure to taste everything since the taste will be your final product, if you feel you need to add more seasonings, go ahead and do it!
After you are satisfied with the taste, add some flour to bind everything. Try to add a few tablespoons at that time and mix very well, you will know it is good when you try to form little balls without falling apart. The texture should be somewhat firm.
Pre-heat your oven at 375 degrees F (around 190C).
Now, the BEST part which is the baking. Take two large baking sheets and grease them well with vegetable oil (otherwise these meatballs will stick to the pan). Wet your hands a bit and form the meatballs. Place them in the baking sheet next to each other. If for some reason, your meatballs seem too "tender" (falling apart) then add a bit more flour to the mix.
Bake them in the lower part of your oven until the bottom part forms a nice crust (usually around 15-20 minutes but all depends on your oven).  If you don't see that crust at that bottom of the meatballs or just lightly brown, keep baking until that crust is formed. Don't poke the meatballs too much, let them create a nice crust.
Once you achieve this, turn them over to the other side until the other bottom part is very brown as well. You know they are ready when they are firm to the touch and not as "delicate" as when you started baking them. I like mine super crusty so I tend to leave them in the oven for quite a while but of course, keeping   an eye on it so they don't burn.
Once they are done, leave them inside the oven so they can crisp even more. Then remove them from oven and use it right away or freeze them.
Enjoy friends! 🙂