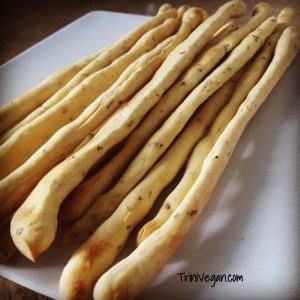 Hi guys, today I have a super easy Vegan recipe. As an Italian descendant, grissini (Italian thin and crispy breadsticks) was a favourite thing to eat growing up.
They are perfect to dunk into soup, dips or to eat on their own as a snack (if you wonder how they are inside, they're hollow and crunchy). These are chia grissini but in my YouTube video, I also made a batch using dried herbs (oregano and parsley). They are super versatile so you can add practically anything, you can even make them spicy if you want.
Here is the recipe:
INGREDIENTS
2 cups of all purpose flour
1/2 teaspoon of sugar
1 pack of yeast
2 tablespoons of olive oil (do not use any other)
1/2 cup of warm water
1/4 cup water (room temperature)
1 teaspoon of salt
Chia seeds
Dried herbs (oregano or parsley)
METHOD
In a large bowl add the flour, sugar and yeast. Mix everything well. Add the olive oil, warm water (1/2 cup) and combine everything until you get a rough dough (it will be dry). Set aside.
In a small cup, add the 1/4 cup of water and the salt, mix everything well with a small whisk. Add it to the rough dough. Please make sure you follow this step carefully otherwise if you add the salt directly to the dough it will kill the yeast and this is the reason why you need to dissolve the salt in water first before adding it to the dough.
Start kneading the dough carefully (add a little flour if the dough is too sticky, but don't add plenty). At this point you want to add as many chia seeds as you want. You can also add dried herbs. Knead until the dough is smooth and elastic, approximately 8-10 minutes. Place the dough in a large greased bowl, cover and let it rest for 2 hours.
After it is done resting, carefully remove and divide the dough in small balls. Shape the grissini and place them carefully in a greased baking sheet. Bake at 400F (200C) for 10-12 minutes.
Hope you enjoy today's recipe and remember: Just because you are going Vegan doesn't mean you have to compromise taste!
Happy eating my friends! 🙂