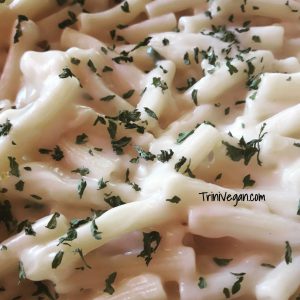 Pasta is one of my favourite foods!  I'm an Italian descendant so pasta is one of those comfort foods I grew up eating in so many different ways. However, as you know, a lot of these dishes carry cheese so how can you enjoy creamy Alfredo pasta without the cheese? Well, let me tell you it is easier than you think.
INGREDIENTS
2-3 cloves of garlic (finely shredded or minced)
6 tablespoons of margarine
6 tablespoons of flour
Soy milk or any other plant based milk
Dry parsley
Salt to taste
Black pepper to taste
Your favourite cooked pasta
PREPARATION
I usually make the sauce first and then cook the pasta so it is nice and hot. You can reserve a little pasta water when you drain it so you can use it to add creaminess to your sauce if necessary.
In a non-stick pot, on medium heat, add the margarine and let it melt. Add the garlic, mix it together and let it cook for around a minute.
Turn down the heat just a little bit and add the flour. Now, using a wooden spoon mix everything until the flour and the margarine are combined. It will look like a dough, mix constantly (don't let it get brown) and cook it for around a minute. Then very slowly add the milk and whisk constantly. Don't stop whisking; you want the flour to be incorporated to the milk without any lumps. I usually use around 2 cups and add them gradually but it all depends on how thin or thick you want this sauce to be. I like it a little thin because it will eventually thicken when you add the pasta. You don't have to cook the sauce for too long. Once it is smooth you can turn it off and continue to add the milk as needed.
If for some reason, you get lumps in the sauce, don't throw it away! Take it to the blender and let it blend for a minute or two. You will have perfect, lump-free sauce in no time. 😉 Add the dry parsley and mix everything.
Add the pasta to the sauce and fold it carefully. And there you have it, the perfect Vegan Alfredo to eat while watching your favourite show on Netflix. Yes, you deserve it! 🙂