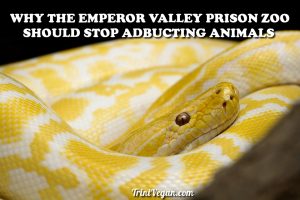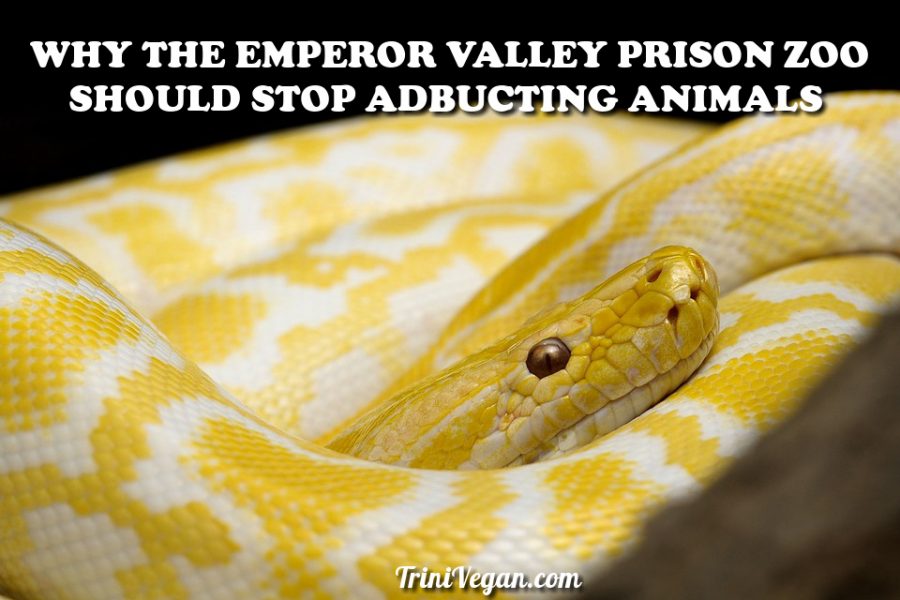 Today, an albino Burmese python in the Emperor Valley Prison Zoo attacked one of the zookeepers inside its enclosure as the employee attempted to throw a dead rabbit for the snake to eat.
Since I believe there is more than one yellow python at the Emperor Valley Prison Zoo, I would like to know if this is the same snake they flaunt around different events and it is exposed to the general public to "pet".
One of the yellow snakes is part of the "educational" program in this prison. Yes, like if the word educational and zoo can actually be used in the same sentence.
Animals at this prison are clearly overstimulated. Every day, they have to endure children and adults tapping hardly on their glass cages to get their attention and being exposed to a lot of noise (even though snakes cannot hear as we do, they pick up vibrations through their jawbones). All of this causes great stress to these precious animals but guess what? They do not care because business comes first. Money over anything else.
If you watched the video carefully, the snake did not attack for no reason. The zookeeper threw the rabbit badly and landed in the snake's head. Very poor handling on the part of the employee. The animal got visibly startled and attacked. According to the newspapers, the zoo keeper has been taken to the Port of Spain General Hospital having suffered major blood loss.
This is one of the many reasons WHY you should NOT keep ANY animals in a prison, particularly WILD animals. They are meant to be in the wild for a REASON. The Emperor Valley Prison Zoo has this python abducted for over ten years. Ten years of being overexposed. Ten years of being treated like an object or a toy that someone can play with or "displayed" like a vase. Ten years of distress. Ten years of living in a 4×4 glass box.
STOP ABDUCTING ANIMALS FOR ENTERTAINMENT AND MONEY PURPOSES!
PLEASE STOP SUPPORTING THE EMPEROR VALLEY PRISON ZOO. ANIMALS ARE NOT OBJECTS. THEY ARE SENTIENT BEINGS AND THEY DESERVE TO BE FREE LIKE EACH ONE OF US.
DO NOT SUPPORT AN INDUSTRY THAT PROFITS FROM THEIR SUFFERING!