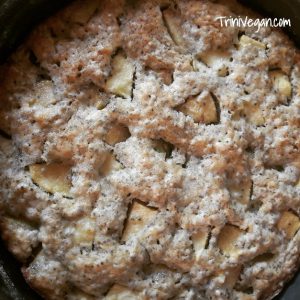 I tried to make this for the first time today and it came out great! I hope you enjoy it as much as I did. This makes enough for an 8 or 9 inch cake pan (the one you use for a layer cake) so it is going to be quite small. If you want to make it bigger, please feel free to double or triple the recipe. It is between a cake and a tart to give you an idea of how it will be. The taste: Absolutely scrumptious!
Let's get started.
INGREDIENTS
1 cup all-purpose flour
1 teaspoon baking powder
¼ teaspoon of sea salt
3 chia seed 'eggs' (to make 3 chia 'eggs' mix 3 tablespoons of chia seeds in a small ball and add 9 tablespoons of water. Mix and let it rest for 10 minutes until it becomes a jelly paste).
¾ cup of sugar
½ cup of melted margarine or Vegan butter
3 large peeled, deseeded apples cut into small cubes.
1 tablespoon of lemon juice
1 teaspoon of vanilla extract/essence
 PREPARATION
The first thing you need to do is make your 3 chia 'eggs' since they will take a little while to thicken up.
Then grease your pan and turn on the oven to 375F (190C).
In a bowl, whisk together the flour, baking powder and salt. Set aside.
In another bowl, add the chia seed 'eggs', the sugar and the vanilla extract and whisk well for a minute or two. Forget about how it looks, I know it looks grey! It won't look like that after baking.
Whisk half of the flour mixture into the "egg" mixture and combine carefully. Then add half of the melted margarine and continue mixing. Add the other half of the flour, mix and then add the other half of the margarine.
In a bowl, combine the apples with the lemon juice and then add them to the flour mixture and fold them in. Spread evenly the top. You can sprinkle a little sugar on top.
Bake for around 35-40 minutes or until you insert a toothpick and come out clean. Let it cool completely before serving. You can add sprinkle  confectioners' sugar on top or eat it as it is!
Yum yum! 🙂