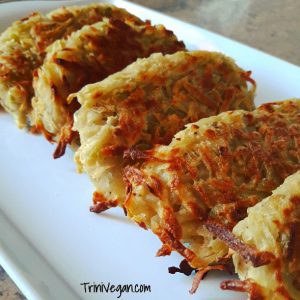 Breakfast is one of those meals that I ensure not to miss particularly if I have tofu and potatoes in the fridge! I love to do scrambled tofu, pancakes and hash browns during the weekend, it is truly the perfect Vegan breakfast.
Today I have a very simple recipe that provides you with the freedom to be creative and you are not bound to follow this recipe to the 'T'. In all honesty, I eyeball most of my recipes! The greatest thing about these hash browns is that they are 100% oil free and they are delicious nonetheless.
INGREDIENTS
2 or 3 large potatoes
Very cold water
Clean cloth or cheese cloth
Salt (to taste)
Black pepper (optional) (to taste)
All purpose-seasoning (to taste)
Onion Powder (to taste)
Garlic Powder (to taste)
1 medium size onion
3 or 4 pimentos
2 or 3 tablespoons of all purpose flour
METHOD
1. Peel the potatoes and grate them. Add the potatoes into a large bowl of very cold water and let it soak for a few minutes. Drain the potatoes and then place them into a clean cloth or cheese cloth.
2. Squeeze all the water out until the potatoes are nice and dry, set aside.
3. Using an electric chopper or knife, chop the onions and pimento peppers very finely, place the mixture in a little bowl until you are ready to use it.
4. In a large teflon pan (medium heat), add the onions and peppers and let them saute for a few minutes. Add the grated potatoes and mix carefully and constantly to ensure they can cook well for a few minutes. Remove from the heat and let it cool for 5 minutes.
5. After the potatoes cool down, add salt and the rest of your favourite seasonings. Add the flour and mix thoroughly until you no longer see the white residues.
6. Shape into hash browns and placed them into a large greased baking sheet and bake them on medium heat for approximately 15-20 minutes or until golden brown at the bottom. Turn the hash browns carefully and let it cook for an extra 15-20 minutes in the other side.
Voila, they are ready to be devoured!
Hope you enjoy this recipe my friends. 🙂