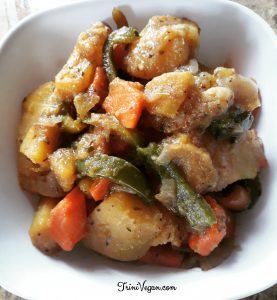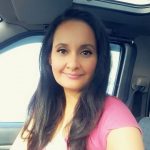 You may also like to
Subscribe to TriniVegan's YouTube Channel
. Thank you so much for your support!
I love stews because they're so delicious and satisfying but when you think about local stews, sugar and oil comes to your mind. However,  I have a super easy healthier version that you can make for lunch or dinner in only 10 minutes.  Of course, like everything I prepare it is 100% Vegan.
he greatest thing about this recipe is that you can add any veggies you want BUT onions are the most important ingredient and a crucial one for the gravy.
You all know by now that I don't use measurements when I cook (except for baking) but I will tell you how I made it. 🙂
INGREDIENTS
2 medium size onions (chopped roughly, NOT small)
1 large carrot (sliced)
1 large bell pepper (cut in long thin strips)
2 or 3 pimentos (chopped finely)
1 large sweet potato (cut in medium-size chunks)
Water (to cook the veggies)
Salt (to taste)
Black pepper  (to taste)
Onion powder (to taste)
All purpose seasoning (to taste)
Oregano/ Italian seasoning (to taste)
METHOD
In a large frying pan, on medium heat add a very small amount of olive oil (1 teaspoon). If you do not want to use any oil in this recipe, you can do it without as well (I tried both ways and it works).
When it is hot, add your onions and let it caramelize slowly. If you are not using any oil, add a very small amount of water and then add the onions. Make sure to stir the onions around so they can cook evenly, let them brown a bit but don't burn them otherwise your stew will be ruined!
This step is crucial because it will create the gravy on its own when all your veggies and sweet potatoes are cooking. After that, add the bell peppers and pimentos and mix everything carefully. Add the carrots and mix everything.
Add some water to your pan to cover all the veggies and mix everything carefully, scrape out any pieces of onions or veggies from the bottom of your pan. Then add your sweet potatoes. Add your seasonings, mix everything and then cover until the sweet potatoes are cooked. You might need to add some more water during the process.
However, at the end of the cooking process, you should see a wonderful thick gravy forming (it shouldn't be as liquid as water). Turn off the stove, let it cool and serve.
Enjoy!