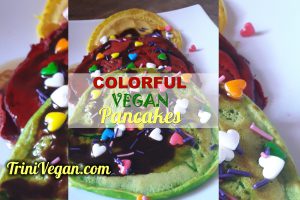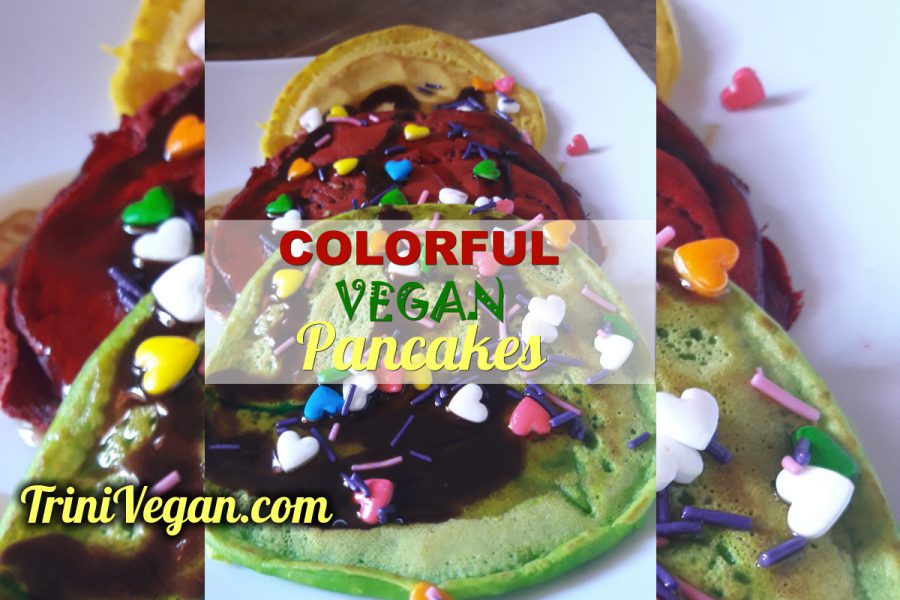 These pancakes are so easy to make and they are of course 100% Vegan. The batter contains no sugar because it is most likely that you will add pancake syrup at the end.
These are great for the holidays, birthdays, tea parties for princesses or for a special treat. Hope you enjoy them as much as my family and I did. 🙂
INGREDIENTS
2 cups of all purpose flour
2 cups (or more) of plant-based milk
1 teaspoon of salt
1 tablespoon of baking powder
2 teaspoons of vanilla extract (optional)
A few drops of green, yellow and red food colouring
METHOD
1. In a large bowl, add the flour, baking powder and salt. Stir carefully to combine.
2. Pour the milk and vanilla extract and whisk until very smooth or optionally put it all in the blender until it becomes super creamy.
3. Separate the batter into 3 different bowls and add the food colouring in each one of them.
4. Pour about 1/2 cup of the batter unto a non-stick pan over low- medium heat. When the pancake starts to bubble, flip the pancake carefully and cook for a few seconds. If you are not sure, just carefully lift up the pancake a little bit to take a look at how the colour is. You don't want to overcook them because you want them to remain colourful.
5. Serve warm with your favourite pancake or chocolate syrup. Add sprinkles on top to make them even more beautiful. Enjoy!