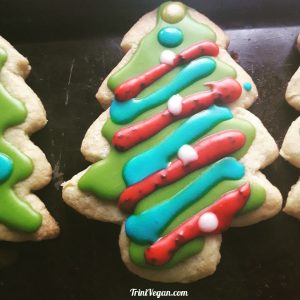 Christmas time is in the air and when you think about Christmas you think about freshly made Christmas cookies of course! So, for today I have a great recipe for you if you love cookies as much as everybody else. 😉  This recipe can also be a fun activity to do with your kids if they love to decorate cookies.
I have been experimenting in the kitchen too in order to make a Vegan royal icing. The original one contains eggs and milk so I was able to create one without using aquafaba as well. They were delicious and everybody loved them. Okay here is the recipe:
FOR THE COOKIES
2 cups of all purpose flour
1/2 cup of vegan butter or margarine (room temperature)
1 tsp baking soda
3/4 cup of granulated sugar
1 tsp vanilla extract
1 tsp of almond extract (optional)
1/4 tsp of salt
METHOD
Start by preheating your oven at 375 degrees Fahrenheit (190 degrees C) .  Add sugar and vegan butter into a bowl and cream together until very smooth. Make sure the sugar is completely dissolved into the Vegan butter otherwise your cookies will turn out grainy.
Add the vanilla and almond extract and mix well. Sift the flour, baking soda and salt and add it to the mixture. Mix everything until a dough is formed. Place dough in a clear plastic wrap and let it rest in the fridge for at least 2 hours. Remove from the fridge.
In a floured surface, roll the dough (1/4-inch thick) and using your favourite Christmas cookie cutters start cutting the cookies. If the dough is very soft, add a little flour into your rolling pin and dough.
If you cannot work with it because it is too soft, place it back in the fridge and let it cool again. Bake at 375 degrees Fahrenheit. (190 degrees C) This recipe requires patience so don't rush to remove the dough from the fridge! Let it cool nicely.
VEGAN ROYAL ICING
1 cup of icing sugar
1 tablespoon of tapioca starch or corn starch
2 teaspoon of lemon juice
1 or 2 tablespoon of plant based milk
METHOD
In a medium bowl add the icing sugar. Add the tapioca starch or corn starch and mix. Add the lemon juice and 1 tablespoon of plant based milk. Mix everything and voila! Vegan royal icing. Please don't feel tempted to add more milk otherwise it will be too runny and you will not be able to decorate them nicely.
If after 1 tablespoon, you find it to be extremely thick and half tablespoon more. I think 1 1/2 tablespoon works just right. However, you might have to put less if you plan to use liquid food colouring.
Hope you enjoy this Christmas recipe. I surely loved it. 🙂