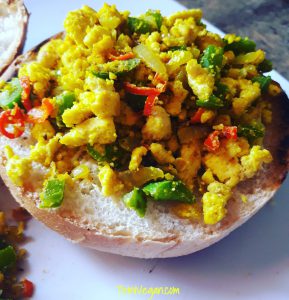 Tofu scramble is one of my favourite things to eat for breakfast because it is so delicious, easy and quick to make particularly if you have a busy schedule! You can also keep this recipe for the weekend and eat it along with Vegan pancakes. If you are new to Veganism and miss scrambled eggs, this recipe is definitely for you because the taste is so similar. For this yummy recipe you will need:
INGREDIENTS
1 block of firm or extra-firm tofu
1 large onion
3 or 4 pimentos
1 bell pepper (optional)
Salt (to taste)
Black pepper (to taste)
Garlic powder (to taste)
Onion powder (to taste)
2 teaspoons (or more) of turmeric powder
METHOD
Remove tofu from pack and using a clean cloth, very carefully pat-dry it. Set aside.
In a greased frying pan, add chopped onion, pimentos, bell pepper (optional) and sautee for a few minutes. Using your fingers, crumble the tofu into little pieces and add them to the pan. Mix everything thoroughly and let it cook for a few minutes at medium heat. Add now salt, black pepper (optional), garlic and onion powder and stir everything until well-combined. Let it cook for a couple of minutes and then add the turmeric powder, feel free to add a little more if necessary, you want the white tofu to turn into a gorgeous and beautiful yellowish colour. Mix everything and let it cook for a few more minutes and that's about it! You have some delicious and tasty tofu scramble.
Like everything else, make sure to taste, taste and taste while you are cooking. Seasoning is key, so you want to ensure it is not bland.
Happy Carnival everyone!